Since legalization, your Instagram feed has likely been filled with a tidal wave of cannabis infused goodies! Cookies, brownies, candies, gummies, and every other mouth watering baked good you could fathom. Edibles have opened up a new avenue for cannabis enjoyment that doesn't involve inhalation, which many are excited about. If you're new to the world of edibles, it can be pretty daunting. You probably have a ton of questions and are worried about getting too high or unsure how long the high will last. We have been there and totally get it! That's why we have created this guide to help you with your first time. If you have any questions, shoot us an email at [email protected] or on Instagram!
EDIBLES FOR THE FIRST TIMER
If you've never tried edibles before, you're in for a treat. Literally! The body high you receive from edibles is very different from the head high often associated with inhalation methods. Many say it's a fully immersive experience!
There are a lot of factors that will impact your tolerance and the effects you feel. Your physiological makeup, metabolism, prior cannabis consumption and the amount you have drank/eaten in a day will all contribute to the experience.
WHAT SHOULD I START WITH?
For those who haven't ingested cannabis before, we often recommend starting with an edible that is adsorbed in the mouth, versus the stomach. Tinctures, hard candies and lozenges are a great place to start. They are adsorbed more evenly than those that are absorbed in the stomach and are easier to dose.
The Healing Co's line of THC tinctures (found HERE), Mota's 1:1 THC:CBD tincture (found HERE) or the CBDMove CBD Tinctures (found HERE) are great to start with.
In terms of candies and gummies, we recommend Mota's THC Hard Candies (found HERE), Twisted Extracts' CBD Jellies (found HERE), and Twisted Extracts' 1:1 THC:CBD Jelly Bombs (found HERE).
SHOULD I HAVE THC, CBD OR 1:1?
That depends. What do you want the effects to be? CBD by itself provides all the benefits of cannabis without impairment, meaning you won't feel high. If you're looking to reap the benefits AND feel some of the psychoactive effects, try THC or 1:1 THC:CBD. Many find 1:1 products to be powerfully therapeutic and because CBD offsets some of the less desirable effects of THC (increased heart rate, anxiety, etc.), it produces less impairment than THC alone.
WHAT DOSE IT RIGHT FOR ME?
The factors mentioned above with decide what dose is "right" for you. We recommend beginners start with 5mg and wait two hours before deciding if they want to ingest anymore. Typically, edibles only taken 60-90 minutes before effects are felt, but it could take up to two hours. Try not to get impatient and have a second dose when you "don't feel anything"; give your body time to process the cannabis before deciding if you need more.
To give you an idea of the doses we recommend for our customers, take a look at the infographic below. This is meant as a guideline only. Every person is different and needs to tailor their cannabis consumption to their specific needs, preferences and tolerance level.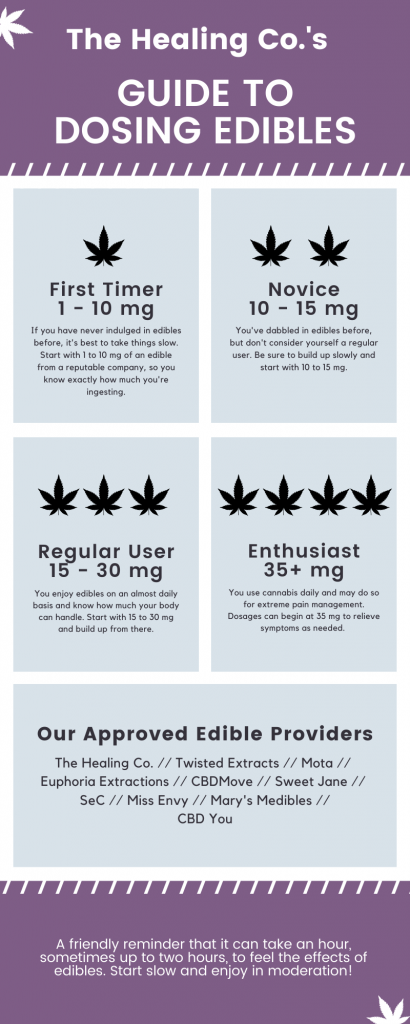 HOW LONG WILL IT LAST?
The duration of the high will largely depend on you, your metabolism and what you ate/drank that day. We recommend staying well hydrated and eating a proper meal before indulging. Ingesting edibles on an empty stomach will decrease the amount of time it takes for you to feel the effects and could increase the duration of the high. As a rule of thumb, anticipate the edibles lasting a solid eight hours. Some find they wear off quicker, while some find they feel the effects for upwards of 12 hours. It depends on you and your body, which is why it's so important to start low and go slow.
TRY EDIBLES IN A SAFE PLACE
If it's your first time, we recommend indulging at home with a close friend or your partner. You'll be relaxed, safe and ready to enjoy the whole experience! Make a cozy little nest at home, prepare your favorite snacks and make an evening out of it.
As you get a better understanding of what dose is right for you, how you'll feel, and how long the high will last, you can begin venturing out into the world and increasing your dose (if desired). Many people microdose edibles (microdosing is the practive of taking small amounts of cannabis in order to reap the benefits of THC while avoiding its psychoactive effects) and don't need or want to increase their dose. There's no right way to enjoy cannabis. As long as you are safe and comfortable, you do you!
WHAT HAPPENS IF I GET TOO HIGH?
It happens. Just know that you are going to be fine! It's impossible to overdose on cannabis and while it may be uncomfortable, you won't hurt your body. We have a whole blog post that covers the things to do if you get too high, which you can find HERE. The best way to avoid greening out (aka being too high) is to start with a low dose and be patient. You can always take more, but you can't turn back once you've taken too much.
HAVE FUN WITH IT
Above all, make it an enjoyable experience! There are such a wide variety of options available that it's an adventure just trying everything! Remember to start slow, go slow, and you'll open yourself up to a whole new whole of cannabis enjoyment!